Beauty & Self
Books & Music
Career
Computers
Education
Family
Food & Wine
Health & Fitness
Hobbies & Crafts
Home & Garden
Money
News & Politics
Relationships
Religion & Spirituality
Sports
Travel & Culture
TV & Movies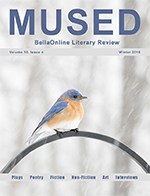 Sometimes it seems as if winter quotes make winter out to be a necessary evil which exists only for us to appreciate the subsequent warmth. Shelley: "If winter comes, can spring be far behind?" Shakespeare: "Now is the winter of our discontent made glorious summer by this sun of York." Hugo: "Laughter is the sun that drives winter from the human face."

But winter is far more than a down against which to compare the subsequent ups. Winter is a powerful, magical time. It is a season of strength. Of looking inward and finding focus. Bob Seger stated, "I write probably 80 percent of my stuff over the winter." Terri Guillemets reminds us, "The color of springtime is in the flowers; the color of winter is in the imagination." The Winter Solstice is a time to embrace the mysterious. The endless possibilities. The sense that we already have, within ourselves, boundless creativity and opportunity. We simply have to still ourselves and listen.

Winter is a powerful season. It gives us that space to look back and learn from our history. To look forward and envision what we wish to become. To be fully mindful of the present and be aware how each day has potential for us to speak out and impact the way our world proceeds. To move us toward peace, fulfillment, and an appreciation of what each of us has to offer.

Happy Winter Solstice.

Enjoy the Mused Winter Solstice 2016 Issue



African-American Inventors
History - Vance Rowe, Editor

Did you know it was an African-American man who invented the potato chip and the three light traffic signal? Check out my article this week to read about them and other African-American inventors.




Enriching Your Lenten Journey
Catholicism - Melissa Knoblett-Aman, Editor

The Lenten season gives us the opportunity to engage in some way in the sufferings of Christ. And the best way to go about that is not necessarily giving something up. Adding spiritual activities to our journey can enrich our relationship with our Lord and Savior Jesus Christ.




Vibrational Healing
Holistic Health - Teresa Post, Editor

The organs and energetic systems of your body have natural rhythms and vibrations. It makes perfect sense that vibration, sound and harmony would help you heal.




Winners from the 89th Academy Awards
Entertainment News - Trina Boice, Editor

The 2017 Academy Awards dazzled and surprised with the following list of winners.




Now That She's Gone Book Review
Suspense / Thriller Books - Karen Hancock, Editor

Kendall Stark is investigating the prison escape of Brenda Nevins, a ruthless serial killer who manipulated the prison warden in her escape; she is unaware that Nevins plans to get revenge on her, as well as her friend, the medical examiner, Birdie Waterman.




Fluency in Reading
Reading - Connie Mistler Davidson, Editor

How can fluency be improved? The short answer is one word-practice. Find multiple ways to help the reader practice. Reading material that is not difficult for him to read is the first step in finding those creative ways for the student to practice. Don't forget to praise for improvement!


| Google+ |
E D I T O R R E C O M M E N D E D
Building School Success with ADD


Finally, there is help for kids with ADD who hate school. This small book is filled with practical tips to make school life better for students with ADD! Use this book to make a positive start this year. Building School Success with ADD can make a difference.
Original Cat Design Products


From Cafepress - Purchase a wide varity of quality products, from t-shirts to magnets, tote bags to mugs and much more, with this original cat design, created by the editor of the Cats Site.
How to Buy Your Next Car


A true car buying expert explains in detail how to buy your next car. From credit and financing to dealer cost and sales tactics, "How to Buy Your Next Car" is full of insightful information to help you avoid making typical car buying mistakes.